Happy Tuesday, friends! I'm back to my usual routine today after a much needed day off from work. Why was it much needed? Because I had me a crazy-awesome-super-fantastic birthday weekend and although I turned a youthful 29, I can no longer attend a 3 day music festival without an extra day to recuperate before heading back to work. Yes, that's right. I have entered the last year of my twenties and to celebrate, Billy & I had fun with friends at Fun Fun Fun Fest! We spent the whole weekend dancing to music, watching some favorite comedians, and eating a ton of food. And we did it all in style with our fancy backstage passes. My favorite part of the festival...
watching M.I.A. from the very front of the side stage!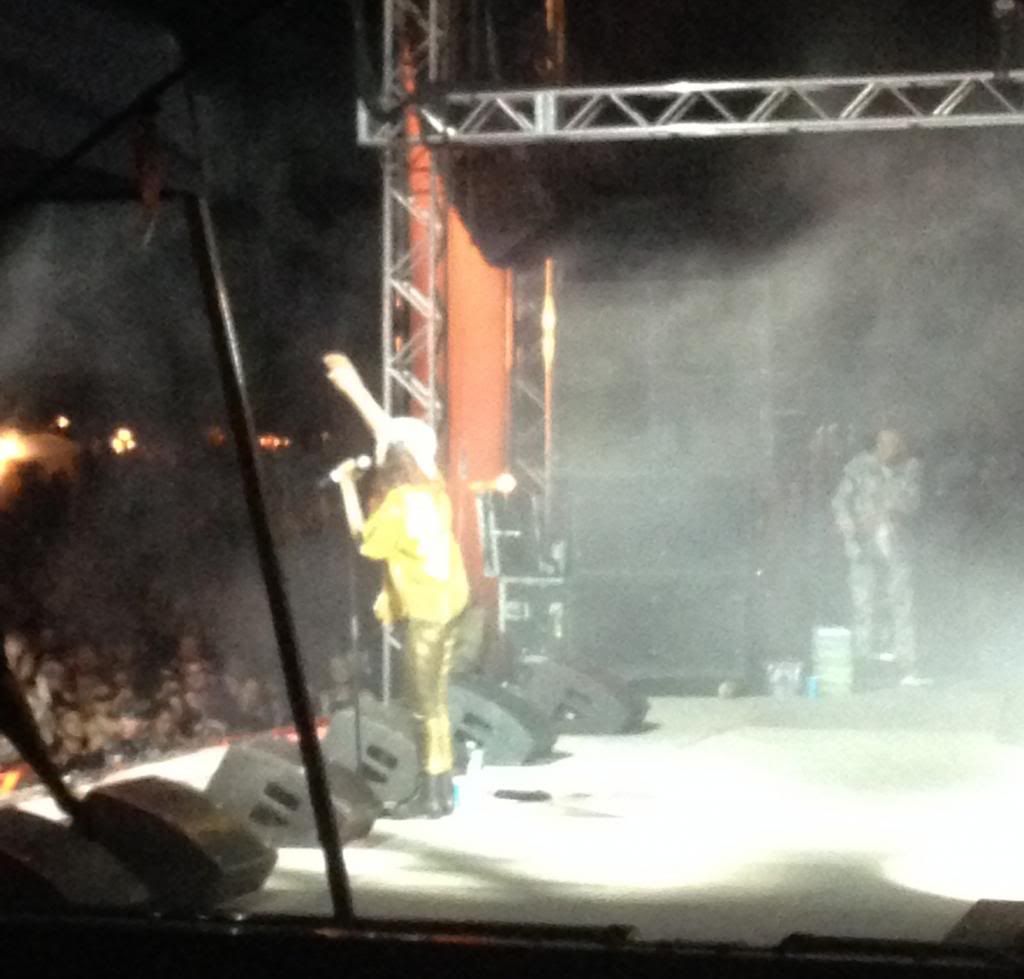 It was a great birthday weekend complete with thirfted treasures from my mom, beautiful art from friends, and delicious french toast made by my sweet boyfriend...
But enough of that! You're here for the pumpkin cinnamon rolls. I must warn you, this post is a bit picture heavy, but I don't think you really mind... do you?
I made these one morning with some leftover pumpkin puree I needed to use up. Instead of just going with the usual sugar, brown sugar, cinnamon mix for the filling, I added some cardamom, ginger, and cloves to make them chai-spiced pumpkin cinnamon rolls.
mmm... look at all that sugar and spice!
I should have made the picture above into a .gif and have it go around and around until you're hypnotized by sugar and cinnamon.
Depending on how thick you cut these, they may not fit in a 9" pan. I decided to go with my heart pan.
Freshly baked and out of the oven...
Have I mentioned how much I love making .gifs?
Pumpkin Chai Cinnamon Rolls
dough:
2 1/4 tsp active dry yeast
1/2 cup non-dairy milk *
I used coconut
5 tbsp vegan margarine
3/4 cup pumpkin puree
2 3/4 cup AP flour
1/4 cup sugar
1 tsp salt
1/2 tsp cinnamon
1/4 tsp nutmeg
1/4 tsp ginger
1 tbsp flaxseed meal + 3 tbsp water
filling:
1/4 cup sugar
1/4 cup light brown sugar
1 tbsp cinnamon
1 1/2 tsp cardamom
1 tsp ginger
1/2 tsp ground cloves
1/2 tsp fine sea salt
1/4 tsp fresh ground pepper
1 tbsp melted vegan margarine
glaze:
5 ounces vegan cream cheese
3 tbsp grade B maple syrup
**NOTES: I was very low on powdered sugar, so I let the maple syrup do the sweetening. I thought the glaze was delicious with just these two ingredients, but you can also go the traditional route of adding some melted vegan butter and 1-2 tbsp sifted powdered sugar**
Melt and brown the butter over low heat. Combine the "milk" and yeast in a small bowl and leave for 5-7 minutes. In another small bowl, combine flaxseed and water- sit for 5 minutes. In the bowl of an electric mixer, combine flour, sugars, salt, and spices. Add melted brown butter and stir to combine. Add yeast, pumpkin puree, flaxseed and mix to combine. Attach the dough hook to your electric mixer and run for 5 minutes and the dough pulls away from the bowl. Place the dough into a greased bowl and cover for 1 hour.
Mix filling ingredients in a bowl and set aside. Place dough on a well floured surface and lightly flour the top. Roll dough out to about 16x11 inch rectangle. Brush the dough with the melted butter and sprinkle with the filling mix. You most likely will have some filling leftover. Starting on the 16" side, roll up the dough and pinch the ends to seal. Cut into 8 pieces and place in a parchment lined pan- I used a 8" heart pan. Cover and let them rise in the pan until double in size, about 45 minutes. Bake at 350 for about 20-25 minutes.
Combine vegan cream cheese and maple syrup til smooth and drizzle over warm cinnamon rolls.
Enjoy!